SplatFrog and Channel Frederator.
by

This week I signed a deal to have both the SplatFrog.com and Crackerbox YouTube Channels distributed through the Channel Frederator Network. That sounds much bigger than it is, but it will have some nice benefits.
Frederator, as you may know, has been pioneering the indie cartoon world for a while now, discovering the likes of Power Puff Girls, Dexter's Laboratory, Fairly Odd Parents, and most recently the hit series Adventure Time. Cultivating a fertile market of young independent cartoon artists online has always been their forte – and their bent for skewing outside the mainstream is well known, especially with their popular Cartoon Hangover channel.
Admittedly, I'm not that kind of content creator, so I was a little hesitant when they inquired about my jumping on board. But ultimately, it will be great exposure for SplatFrog to an eager (I hope) group of animation artists. And, even better, it will be a great network to showcase upcoming Crackerbox titles in the works, which are intended to appeal to a more adult crowd as we go forward. I'm particularly excited about both of those things, and I really look forward to interacting and collaborating with Frederator and its community over this coming year.
So, what does that mean specifically for SplatFrog? Well, it sort of puts a fire under my ass to whip my YouTube channels in to shape and begin to produce more frequent content. The big change will be that I will be turning the "SplatFrog Podcast" in to exclusive YouTube content called "SplatFrog AnimTips".  You will still be able to view them through the site, but I will be serving them from the SplatFrog.com YouTube channel, and most likely discontinue the iTunes feed.
This also means more frequent video posts! They may be slightly shorter, but there will be more of them. Looking forward to the challenge. So head on over and check out the spiffy new facelift I gave the channel page, and most importantly, subscribe! 🙂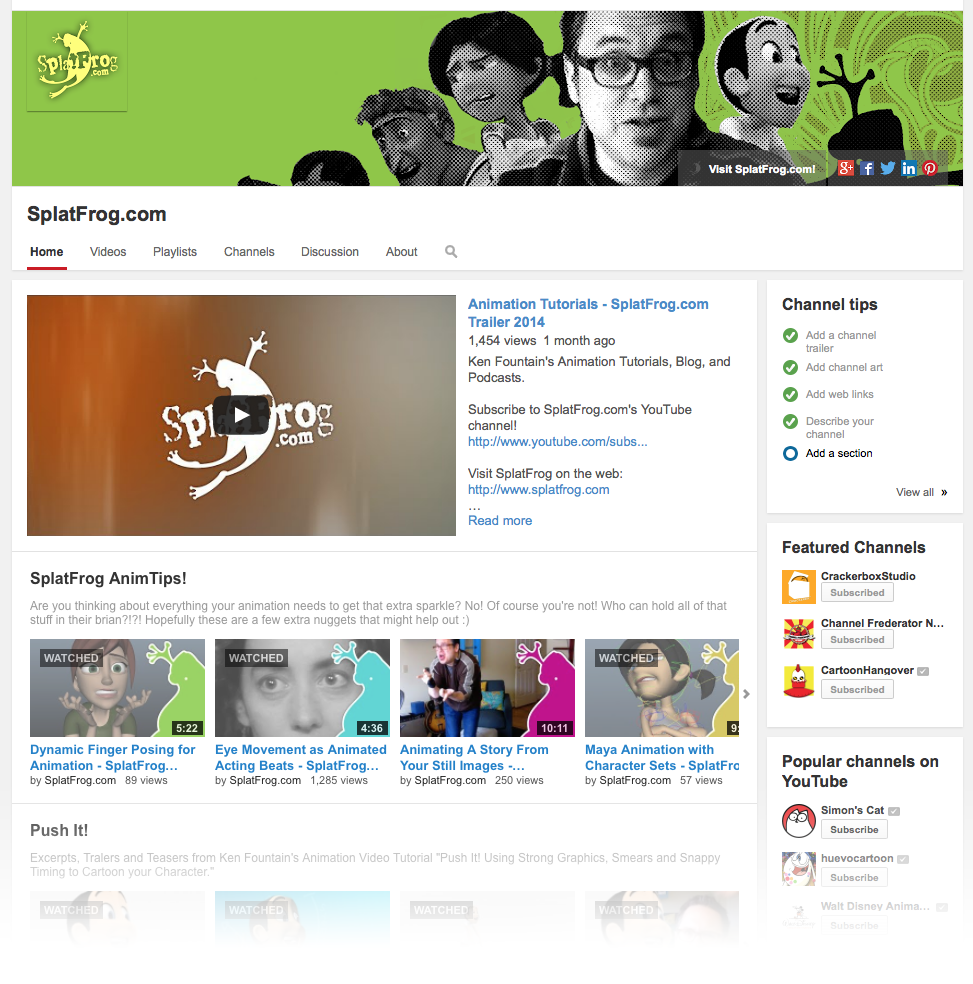 I really look forward to greater interaction with everyone via comments, questions and requests on the channel page. It will be great to get a bigger conversation going about what topics and tips you would like me to blab about.
Here's to good new things 🙂
/ken